10 Money-Smart Reasons to Amend Your Tax Return
If you discovered that you missed taking valuable deductions or tax credits in the past, you have up to three years after the tax-filing deadline to file an amended return. Now's the time to look back over your returns from 2015, 2016 …
Kiplingers
Tips To Repay Your Student Loans Faster
According to Student Loan Hero, Americans owe a whooping $1.48 trillion in student loan debt, spread among 44 million borrowers. The average student …
Forbes
Homeownership Keeps Climbing
The U.S. homeownership rate continues to climb, with more Americans benefiting from the sharp rise in home values in recent years. The downside …
The Wall Street Journal
Enjoy Life Now and Still Save For Later
There used to be a television commercial in the U.S. for Michelob Light beer. It had a little jingle that started with, "Who says you can't have …
Investopedia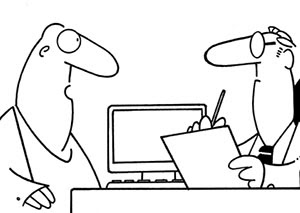 "On my 65th birthday, I'm going to lie down in a crop circle and wait for aliens to abduct me. That's my retirement plan."
Copyright © Randy Glasbergen
Trivia
Who is on the half-dollar coin?
See the answer below.
What Year Was It?
Amusement park lovers "head for the thrills" as Six Flags Over Texas, the first park in the Six Flags chain, opens. Located on 212 acres in Arlington, Texas, the park was the first to feature log flume and mine train rides and 360-degree looping roller coaster.
The day was Aug 1. What year was it?
Quote of the Week
"While no amount of financial wealth can guarantee an experience of prosperity, it is possible to experience prosperity at almost any level of income, except when we are unable to meet our basic physical needs."
Shakti Gawain
Trivia Answer
Who is on the half-dollar coin?
Answer: Kennedy
SUBSCRIBE TO OUR NEWSLETTER
NEWSLETTER ARCHIVES
Tom Umstattd, CPA
13276 Research Blvd, Ste 101
Austin, TX 78750
The articles linked in our newsletter come from many sources and are provided for informational purposes only. We do not endorse information or opinions appearing in the various articles linked in our newsletter. The articles selected are not sponsored or endorsed and we assume no responsibility for the accuracy of information contained in articles linked in our newsletter. Copyright for linked articles belongs to the linked source.
A Newsletter Station Publication
© All Rights Reserved.