10 Surprising Things That Are Taxable
If you work for a living, you know that your wages are taxable, and you're probably aware that some investment income is taxed, too. But the IRS doesn't stop there. If you've picked up some extra cash through luck, skill or …
Kiplinger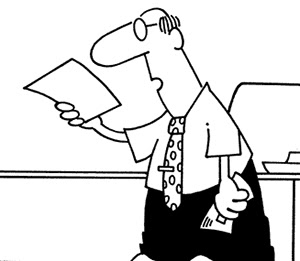 "If you have already sent us your payment, please accept our apology for the death threat and warm wishes for the holiday season."
Copyright © Randy Glasbergen
Trivia
Which president is on the front of a US $50 bill?
See the answer below.
What Year Was It?
Pocahontas, daughter of the chief of the Powhatan Indian confederacy, marries English tobacco planter John Rolfe in Jamestown, Virginia.
The day was Dec 11. What year was it?
Quote of the Week
"The stock market is filled with individuals who know the price of everything, but the value of nothing."
Phillip Fisher
Trivia Answer
Which president is on the front of a US $50 bill?
Answer: Grant
SUBSCRIBE TO OUR NEWSLETTER
NEWSLETTER ARCHIVES
Tom Umstattd, CPA
13276 Research Blvd, Ste 101
Austin, TX 78750
The articles in our publications come from many sources. We do not endorse information or opinions appearing in linked articles. The articles selected are not sponsored, and we assume no responsibility for the accuracy of the information. Copyright for linked articles belongs to the linked source.
A Newsletter Station Publication
© All Rights Reserved.