Start Trimming Your 2019 Tax Tab Now
As you complete your 2018 tax return, turn some attention to your tax plans for 2019. Although tax reform triggered a slew of major changes in 2018, the landscape has settled this year. In terms of tax rules, "2019 will …
Kiplingers
Are Home Improvements Tax-Deductible?
With Tax Day just around the corner, it's time to start gathering those tax documents together and figuring out if certain expenses …
Handyman Connection
Savings Accounts 101
Savings accounts are just about the simplest of all income-producing investment accounts. They are even less complicated than their first …
Investor Junkie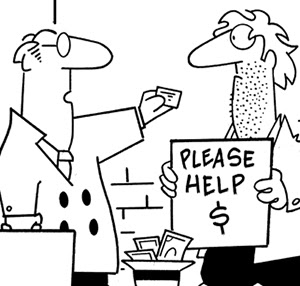 "If you claim depreciation on the hat, I can save you a fortune on your taxes. Call me."
Copyright © Randy Glasbergen
Trivia
Who was on the front of the once circulated US $10,000 bill?
See the answer below.
What Year Was It?
Galileo Face Charges of Heresy
Italian philosopher, astronomer and mathematician Galileo Galilei arrives in Rome to face charges of heresy for advocating Copernican theory, which holds that the Earth revolves around the Sun
The day was Feb 13. What year was it?
Quote of the Week
"Many people take no care of their money till they come nearly to the end of it, and others do just the same with their time."
Johann Wolfgang von Goethe
Trivia Answer
Who was on the front of the once circulated US $10,000 bill?
Answer: Salmon P Chase, the 25th US Secretary of the Treasury.
SUBSCRIBE TO OUR NEWSLETTER
NEWSLETTER ARCHIVES
Tom Umstattd, CPA
13276 Research Blvd, Ste 101
Austin, TX 78750
The articles in our publications come from many sources. We do not endorse information or opinions appearing in linked articles. The articles selected are not sponsored, and we assume no responsibility for the accuracy of the information. Copyright for linked articles belongs to the linked source.
A Newsletter Station Publication
© All Rights Reserved.