Frequently Overlooked Tax Deductions
After the sweeping new federal tax law took effect in January 2018, about 90% of taxpayers took a standard deduction for that tax year rather than itemize, up from about 70% the year before. But if you are planning to take …
Bottom Line, Inc
Take charge of your credit
By now, you've encountered the world of credit, whether it was renting your first apartment or figuring out how to pay for a kitchen …
ABC News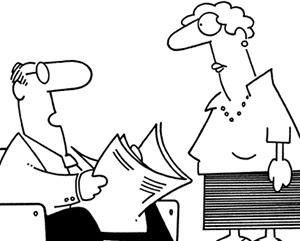 "How can you call me unemotional? You've seen me cry over interest rates!"
Copyright © Randy Glasbergen
Trivia
Who suggested the design for the first penny?
See the answer below.
What Is a Roth IRA?
A Roth IRA is a type of investment account used for retirement. IRA is short for "individual retirement account …
Investor Junkie
What Year Was It?
Packers Face Chiefs in First Super Bowl
At the Los Angeles Coliseum, the Green Bay Packers beat the Kansas City Chiefs in the first-ever world championship game of American football.
The day was Jan 15. What year was it?
Quote of the Week
"Frugality includes all the other virtues."
Cicero
Trivia Answer
Who suggested the design for the first penny?
Answer: Benjamin Franklin
SUBSCRIBE TO OUR NEWSLETTER
NEWSLETTER ARCHIVES
Tom Umstattd, CPA
13276 Research Blvd, Ste 101
Austin, TX 78750
The articles in our publications come from many sources. We do not endorse information or opinions appearing in linked articles. The articles selected are not sponsored, and we assume no responsibility for the accuracy of the information. Copyright for linked articles belongs to the linked source.
A Newsletter Statio