5 IRS Tips for the 2019 Tax Season
Americans are starting to get ready for tax season, with many taxpayers hopeful that new laws Opens a New Window. will result in bigger refunds. Yet with the government shutdown having hit at a particularly inopportune time for …
Fox Business
Ways To Raise Your Credit Score
You're probably well aware that your credit score can have a big influence on your financial well-being, determining whether you'll qualify …
Forbes
How Long Should I Keep My Tax Records?
The Internal Revenue Service (IRS) has some hard and fast rules regarding how long taxpayers should keep their tax records. As the IRS puts  …
Investopedia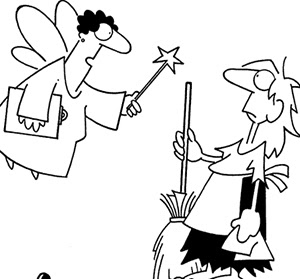 "After federal, state and local taxes, you get one-third of a wish."
Copyright © Randy Glasbergen
Trivia
When in 2003 was the new $20 bill introduced?
See the answer below.
What Year Was It?
The 18th Amendment to the U.S. Constitution, prohibiting the "manufacture, sale, or transportation of intoxicating liquors for beverage purposes," is ratified on this day.
The day was Jan 16. What year was it?
Quote of the Week
"It's how you deal with failure that determines how you achieve success."
David Feherty
Trivia Answer
When in 2003 was the new $20 bill introduced?
Answer: October 9th. The treasury revamps paper money every 7 to 10 years to ward off possible counterfeiters.
SUBSCRIBE TO OUR NEWSLETTER
NEWSLETTER ARCHIVES
Tom Umstattd, CPA
13276 Research Blvd, Ste 101
Austin, TX 78750
The articles in our publications come from many sources. We do not endorse information or opinions appearing in linked articles. The articles selected are not sponsored, and we assume no responsibility for the accuracy of the information. Copyright for linked articles belongs to the linked source.
A Newsletter Station Publication
© All Rights Reserved.