Watch Out for Tax Audit Red Flags
Now that you've completed your tax return, you may be wondering about your odds of an IRS audit. Most people can breathe easy. The vast majority of individual returns escape the IRS audit machine. In 2017, the individual audit …
Kiplinger
IRA Contribution Limits in 2019
For the first time since 2013, the individual retirement account (IRA) contribution maximums have been increased, by $500 to be exact …
Investopedia
10 Reasons to Overpay Your Mortgage
By Andrew Rosen via Iris.xyz Hopefully, you've read part one and heard the argument of why you shouldn't be overpaying your mortgage …
Fox Business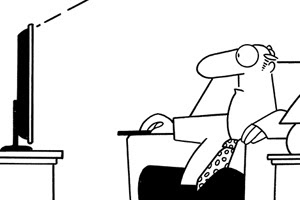 "Stocks plummeted today to a near-record low because that's what stocks do sometimes."
Copyright © Randy Glasbergen
Trivia
Who is pictured on the 1934 series $500 bill?
See the answer below.
Top 10 Countries That Save the Most
Savings constitute the difference between an individual's income and spending. Gross national savings include not just residents' household …
Investopedia
What Year Was It?
Great Britain and the United States celebrate Victory in Europe Day. Cities in both nations put out flags and banners, rejoicing in the defeat of the Nazi war machine.
The day was May 8. What year was it?
Quote of the Week
"I'm a great believer in luck, and I find the harder I work the more I have of it."
Thomas Jefferson
Trivia Answer
Who is pictured on the 1934 series $500 bill?
Answer: William McKinley
SUBSCRIBE TO OUR NEWSLETTER
NEWSLETTER ARCHIVES
Tom Umstattd, CPA
13276 Research Blvd, Ste 101
Austin, TX 78750
The articles in our publications come from many sources. We do not endorse information or opinions appearing in linked articles. The articles selected are not sponsored, and we assume no responsibility for the accuracy of the information. Copyright for linked articles belongs to the linked source.
A Newsletter Station Publication
© All Rights Reserved.